a bounty of foraged hedgehog, pig's ear, white prince* and cauliflower mushrooms
Earlier this week, my friend Josef Szuecs invited me to join him on a late season mushroom foraging expedition. Joe has been writing a seasonal Mushroom Report for DeepCraft, and is deeply steeped in mushroom culture, having collected, cooked and eaten wild mushrooms since he was a boy. Over the years, I have occasionally hunted mushrooms with friends who like to cook with foraged goods, but remain a novice in the field of mycology, and will be forever respectful of the risks inherent in eating wild fungi. I'm grateful for Joe's expertise in the field, and have been carefully preparing my harvest, eating the hedgehogs straight up, drying the black chanterelles by the fire, and frying the rest for freezing.
*Note: The edibility of the White Prince is disputed, and Joe advises against eating it.
black chanterelles, laid up in pans for air-drying by the fire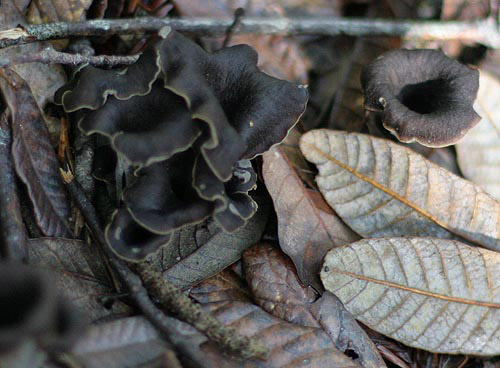 black chanterelles thrive under tan oak (photo: Josef Szuecs)
yours truly, learning the ropes in the woods (photo: Josef Szuecs)
Please follow my thread of seasonal cycles by clicking here and scrolling down.