One of three 'seed heads' of stainless steel and crystal, fabricated by Jeff McCann
After a year of planning with the City of San Jose's Public Art Program, we're excited to be finally installing our Wishing Wands sculptures at Berryessa Creek Park. The latest Wowhaus project consists of three 12′ high sculptures depicting 'dandelions' in their parachute ball stage, rendered in stainless steel and Austrian crystal. The concept was inspired by the universal practice of children blowing on the plant's downy-dry seed head and making a wish, which is what we found the neighborhood children to be doing during our exploratory site visit to the park last year. ?????? ???????????? While the sculptures were under fabrication, Ene conducted a wishing workshop with the children who frequent the park, where they made wishes on the 120 crystals to be mounted on the three seed heads. Like magic wands, the sculptures will cast cascades of tiny rainbows when the sun refracts through the prismatic crystals. ??? ???? ?????? 2024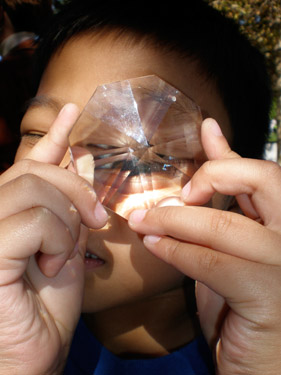 a neighborhood boy makes a wish on one of the 120 crystals; early concept rendering

The common dandelion (Taraxacum officinale) is one of the world's most prolific weeds, whose English name is a corruption of the French dent de lion (lion's tooth). In many languages, the flower's name reflects the universal appeal of blowing on the seed head during its parachute ball phase; the flower is variously called pusteblume (German for "blowing flower"), soffione (Italian for "blowing"; in some northern Italian dialects), dmuchawiec (Polish, derived from the verb "blow"), одуванчик (Russian, derived from the verb "blow").
The First Dandelion, by Walt Whitman
Simple and fresh and fair from winter's close emerging,
As if no artifice of fashion, business, politics, had ever been,
Forth from its sunny nook of shelter'd grass–innocent, golden, calm as the dawn,
The spring's first dandelion shows its trustful face.
//